Minutes are precious in veterinary practice. Spending them looking for answers in out-of-date print references or clicking around clunky platforms can be frustrating. With a digital drug reference like Plumb's Veterinary Drugs, you can reclaim some of that time—and maybe even get that lunch break back.
Here are 4 time-saving benefits to Plumb's that you might not know about.
1. Streamline your search.
Most of the time, you just need reliable dosage information, fast. As a digital drug reference, Plumb's Veterinary Drugs is always available on the closest device (phone, tablet, or desktop), so you can stop combing the practice for the book—which is somehow never where you left it.
In Plumb's, the predictive search anticipates which drug you're looking for and starts auto-populating results based on what you've typed in. (Eventually, we'll all learn it's trazOdone.) You can even create your own quick reference list of drug monographs with the favorites feature.
Quick links for dosages and dosage forms get you right to the numbers you need, directly from search results.
You can also easily jump to other sections of a drug monograph, like contraindications or adverse effects, from the convenient table of contents at the top (mobile) or left side (desktop) of your screen.
Plus, you can use the in-app calculator to do common conversions and calculate your dosage. (Because there's never a calculator in the first drawer you open.)
2. Simplify safety checks.
Still flipping back and forth in your book to double-check drug interactions?
Plumb's has the first digital drug interaction checker specifically for veterinarians. Enter all your patient's medications in one place to get a list of drug-to-drug interactions, color-coded by risk level.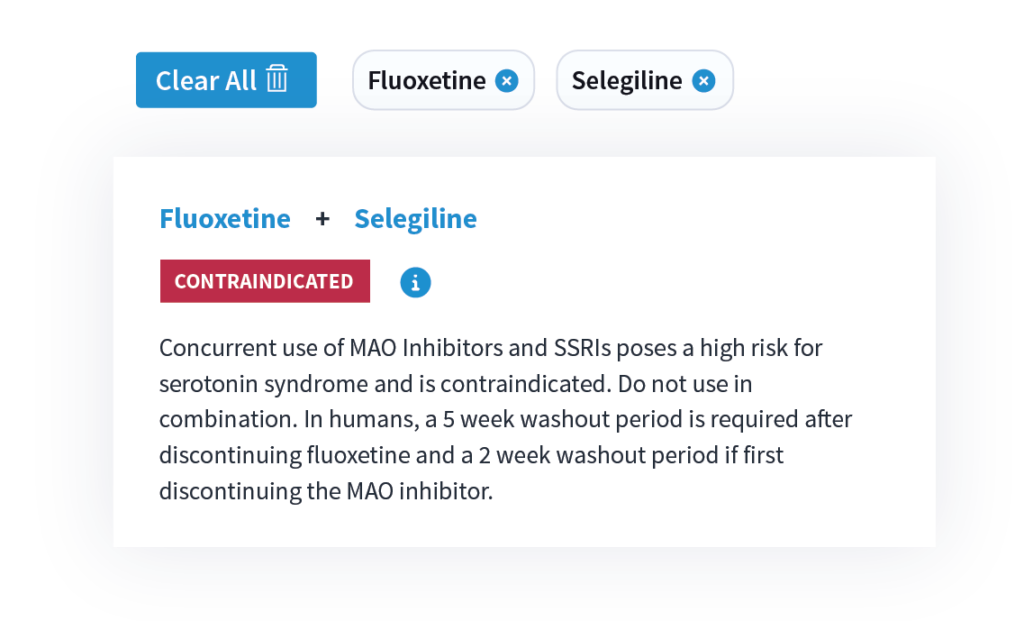 3. Share information with pet owners—faster.
Plumb's Veterinary Medication Guides make pet owner education more efficient. Team members can teach from and then send home these comprehensive but easy-to-understand drug information sheets—saving you from answering FAQs by phone later.
You can print or email multiple guides at once (without revealing your email address), and even include custom instructions, like when to schedule follow-up lab work.
Pro-tip: Print or download an extra copy of the drug information sheet to document drug disclosures in the medical record.
4. Cut down on cross-referencing.
Whether it's your local ophthalmologist's favorite protocol, a new trend in prescribing you picked up from recent CE, or a tidbit from that 20-pound textbook, Plumb's can fit all your factoids without using a single sticky note.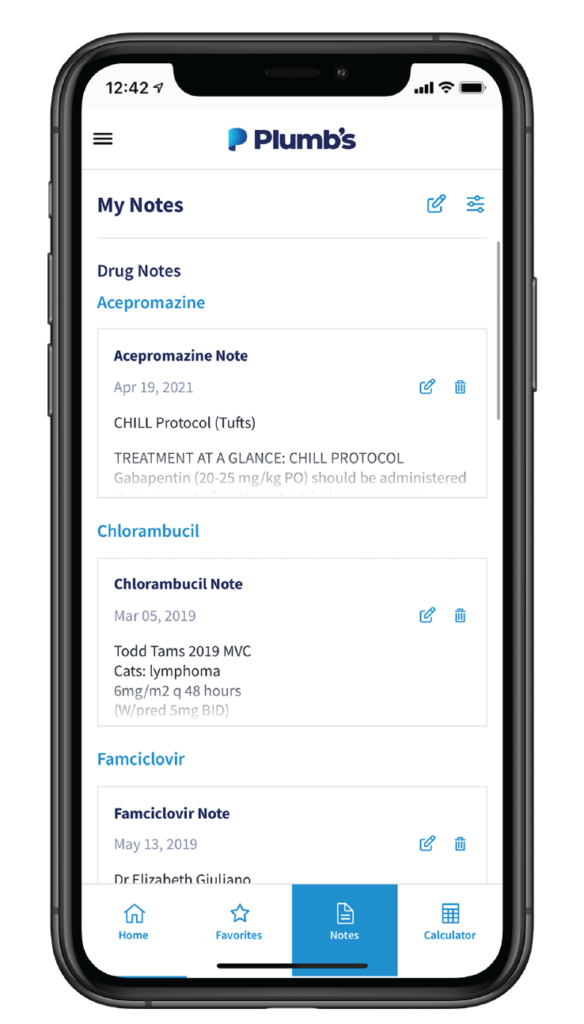 Use the notes feature to document or access essential information from anywhere.
---
That's not all Plumb's can do, but you're busy, so we'll keep this short. If you're already subscribed to Plumb's, you can start using all of these tools today.
Interested? Don't waste another minute.
Need trusted veterinary drug information for your whole team? Let's talk.