Remember your first Plumb's™ book? Maybe it was a graduation gift from your mentor or that tattered burgundy copy in the drawer at your first practice. That first Plumb's™ was part of our induction into the profession, and we've counted on it to help keep our patients safe ever since. 
No matter whether we've been in practice for 20 minutes or 20 years, we rely on the support of Plumb's™ every day. But for many of us, that support looks a little different these days. We don't need to hunt down our practice's single copy of the Plumb's book or wait for the next edition to be released. We can turn to a digital version of Plumb's™ instead.
Here are 3 ways the digital version of Plumb's™ goes beyond the handbook to deliver enhanced support.
1. The same trusted drug information, but continually updated
Evidence-based content—including citations so you can review sources—has helped the Plumb's book stand apart for the past 3 decades. This research-based dosing information is what makes it a drug reference rather than a formulary (ie, a list of preferred drugs). 
The digital version of Plumb's™ contains the same trusted content you'll find in the book. But—unlike the book—new drug monographs and drug safety updates appear on the digital version of Plumb's™ as soon as they're available, so there's no need to wait for a new book edition to get the latest information. (Find out more about how Plumb's™ content is continually updated.)
You can also quickly update Plumb's™ with practice protocols and CE pearls using customized notes. Grab your smartphone and add a note about a new drug indication or possible adverse event before leaving the conference room at your next continuing education event.
2. Even faster access to the essential drug information you need
One of the best things about the Plumb's book is the ability to flip to the section you need quickly.
But you can find details even faster with a digital Plumb's™. 
No need to waste precious time searching for the book. (It's never where we left it, is it?) Instead, just grab your nearest device and open the Plumb's™ app or visit the website.
Start typing the drug you're looking for in the search bar. Our smart search starts predicting what you're looking for as you type—even when you enter the brand name. So, it's okay if—like the rest of us—you struggle to spell levetiracetam.
Then, you can skip straight to the sections you need. Just click on the blue quick links on your search results to go straight to dosages (is that 20 mg/kg BID or TID?) or dosage forms (that comes in a liquid, too, right?)
Looking for something else? There's no need to scroll. The table of contents is always right there with links to everything else.
You can also make your own quick reference list with the drugs you refer to most frequently. Just click on the star icon to add content to your favorites list.
3. Pharmacology tips and tricks, plus interactive tools
The Plumb's™ book contains handy pharmacology information that even long-time users might not know about, including details on:
Blood products
Multidrug sensitivity in dogs
Estrus and gestation periods in dogs and cats
Government and industry contact information
And more…
You'll find the same helpful content in the Plumb's™ app, too, under the appendix. And like everything else in Plumb's™, it's easily searchable and your favorite content can be saved to your quick reference list.
But the digital version of Plumb's™ goes beyond that with more innovative, interactive tools.
Calculate dosages in seconds
Need a dosage? No need to track down a calculator when everything you need is on your device. The conversion calculator in Plumb's™ is easy to access and always available, whether you're reviewing drug information from a workstation or checking dosages in the app.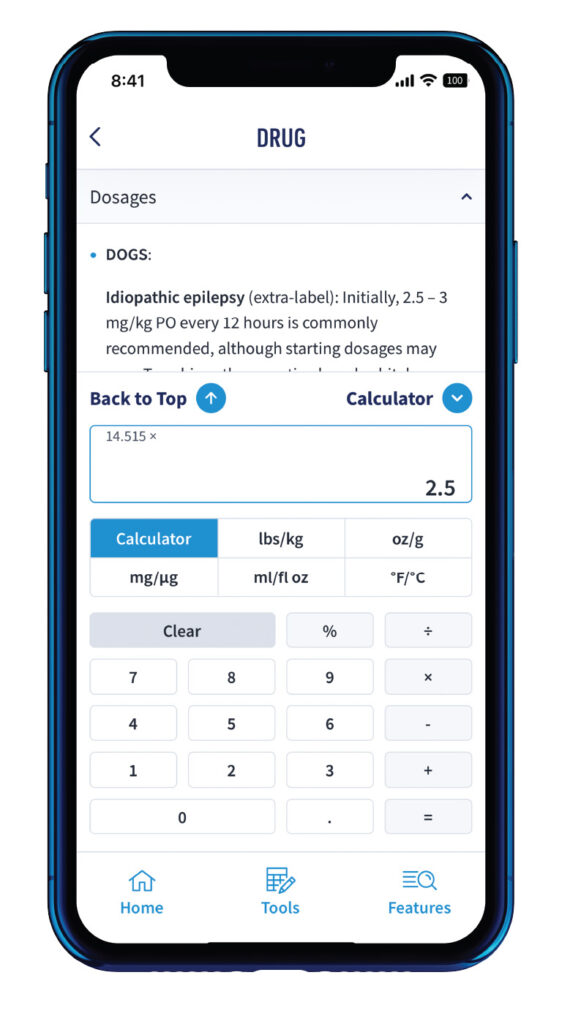 Answer common pet owner medication questions
The digital version of Plumb's™ includes pet owner drug handouts that you can print or email from the app (without sharing your contact information with the pet owner). These handouts contain all the important information a pet owner needs to know about the medications you prescribe, including common side effects, tips on giving medication at home, and what to do if they miss a dose. 
Protect your patients from drug interactions
Plumb's™ drug interaction checker is the first of its kind for veterinarians. This interactive clinical tool lets you evaluate drug combinations for potential interactions and get veterinary-specific insights, so you can quickly make informed medication choices for your patients.
Simply type in all your patient's medications, and then review the resulting color-coded list of one-to-one interactions. 
These interactive tools not only save time but may also help save patients—and they're just the beginning of what's possible with the Plumb's™ app.
With peer-reviewed veterinary drug information, a built-in drug interaction checker, drug information sheets for pet owners, and more, the digital version of Plumb's™ has everything you need to safely—and quickly—dispense medications for animals.
And that's just Plumb's Veterinary Drugs! Plumbs Pro™, our revolutionary clinical decision support tool, goes beyond prescribing to include all the diagnostic and treatment information you need to care for your patients from diagnosis to discharge. Compare plans and see which one is right for you.
---
Don't have Plumb's™ yet? It only takes a few minutes to subscribe.
Already a subscriber? Check out two recent monographs: the new pill for diabetic cats, bexagliflozin, and a new analgesic option for cats, frunevetmab.