Practicing in New York state? Then you should know about Buoy's Law (NY Senate bill S1289B). The law was named after Buoy, a 3-year-old Labrador retriever who died of renal failure while on carprofen following stifle surgery. The legislation, passed on December 15, 2022, will go into effect November 2025.
The only other similar law in the country—'Lizzie's Law'—was passed in California in 2018. Both of these laws aim to ensure that pet owners receive sufficient information to make informed decisions when medications are prescribed for their pets.
Get the Details on Buoy's Law
Buoy's Law requires that every time a veterinarian prescribes, dispenses, or provides a drug to an animal, they must provide the pet owner with:
The name and description of the drug
Directions for use
Actions to be taken in the event of a missed dose
Instructions for proper storage
Any common reasonably anticipated adverse effects
Manufacturer precautions and relevant warnings
This information can be provided in written form, verbally, or electronically.
What does Buoy's Law mean for you in veterinary practice?
We all want to ensure our patients are safe and their owners are well-informed. And the more information we can give pet owners about the drugs we prescribe, the better.
But like all of us, your time is tight, and you're probably busier than ever. So how do you squeeze in sharing all this information for every patient you see?
Don't worry. Plumb's™ has your back.
Discover Plumb's™ Medication Guides
Plumb's™ medication guides offer concise yet thorough pet owner education. They clearly explain everything a pet owner needs to know about the drugs you prescribe, like side effects, duration of therapy, and what to do if they miss a dose or have pills left over. These expert-written client drug information handouts are also reviewed by pet owners to ensure your clients can understand their pet's care and any potential risks associated with treatment.
You can share these drug information handouts directly from Plumb's™, and there's space to attach the prescription label if you're printing.
How does Plumb's™ help you comply with Buoy's Law?
When you prescribe, your prescription label combined with the corresponding medication guide from Plumb's™ fulfills all the requirements of Buoy's Law. Take a look at the table below to see how Plumb's™ has you covered.
| | | |
| --- | --- | --- |
| Requirement | Prescription Label | Plumb's™ Medication Guide |
| Name and description of the drug | ✓ | ✓ |
| Directions for use | ✓ | |
| Actions to be taken in the event of a missed dose | | ✓ |
| Instructions for proper storage | Supplemental labels | ✓ |
| Any common reasonably anticipated adverse effects associated with the use of such drug | | ✓ |
| Manufacturer precautions and relevant warnings when made available by the manufacturer for the species to whom the drug is prescribed | | ✓ |
How to Share Plumb's™ Medication Guides with Pet Owners
All Plumb's™ medication guides are professionally designed in PDF format for easy printing. You can print directly from the preview and get a clearly formatted document that reflects well on your practice.
There's even a spot to stick your prescription label and a section to add personalized instructions.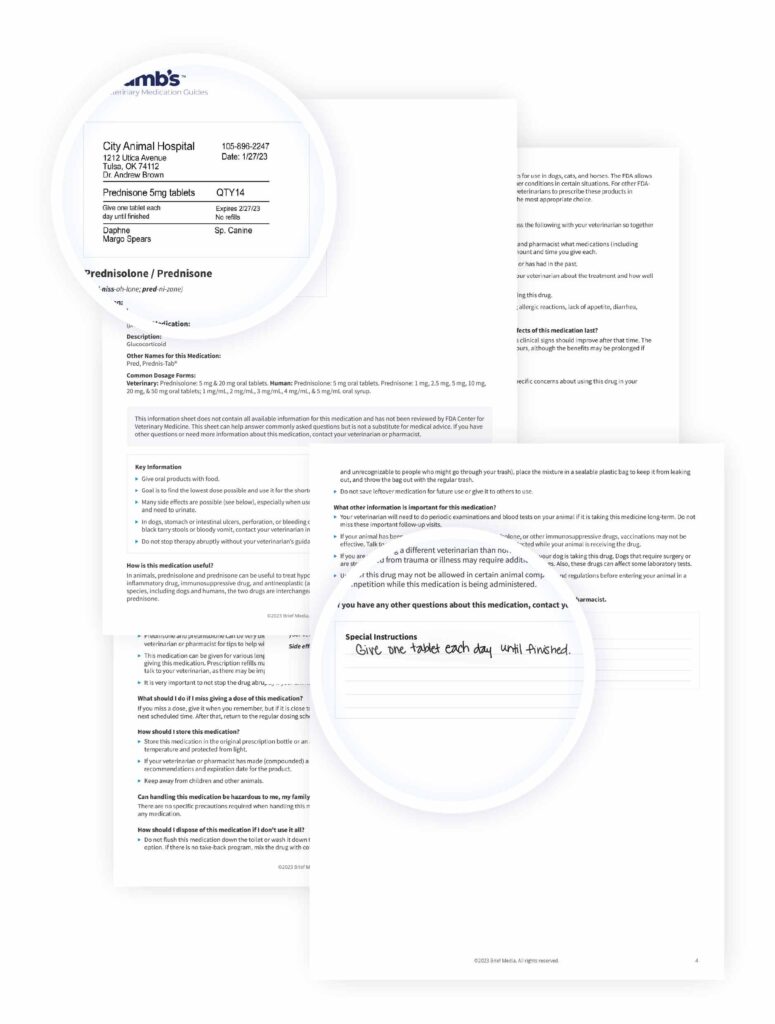 You can also email these guides from any device—even the phone in your pocket. You can also quickly send multiple guides together when prescribing more than one medication.
There's a spot to add a personalized message before you send your email. Best of all, your email address is never shared—but you can enter it in the BCC field if you'd like to send yourself or the practice a copy of the email for your medical records.
When you use Plumb's™ medication guides to provide pet owner education, you can easily fulfill all the requirements of Buoy's Law—without spending extra time you don't have.
More Pet Owner Education with Plumb's Pro™
If you want streamlined pet owner education that goes beyond medications, take a look at Plumb's Pro™.
It has everything in Plumb's Veterinary Drugs®, plus a full suite of clinical decision support and pet owner education that helps you care for your patients from diagnosis to discharge. You'll find pet owner guides that cover everything from clinical conditions to preventive care and common procedures.
In veterinary practice, there's always more to do than there is time to do it in. But Plumb's™ is here with tools to help you deliver the best care to your patients—and their owners.
Already subscribed to Plumb's™? Find the medication guide for the last drug you dispensed.
Think you could use veterinary medication guides in your practice? Choose your Plumb's™ plan today.